Measures the Stuck Tendency Coefficient with the Timed Filtrate Test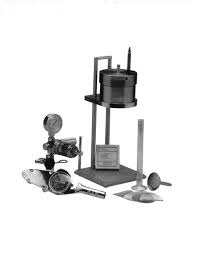 The Differential Sticking Tester was designed to determine how likely a given drilling fluid will be to produce a stuck pipe situation and how effective a given drilling fluid treatment or application of spotting fluid in any given drilling fluid would be in reducing this tendency. This measurement is called the Stuck Tendency Coefficient. It takes into account both the stickiness and the cake building capability of the drilling fluid. The Stuck Tendency Coefficient is determined by the Timed Filtrate Test.
The unit can be pressurized by the CO2 regulator assembly or from any nitrogen source. If Nitrogen is to be used, the Differential Sticking Tester must be fitted with a suitable Nitrogen regulator, gauges, relief valve, hose and fittings.
Ordering Information
Part No. 206906 Differential Sticking Tester
Specifications
| | |
| --- | --- |
| Capacity | 140 ml cell |
| Dimensions | 13.5 in x 7.5 in x 6.25 in |
| Weight | 23 pounds |
| Pressure | 477 psig |