The Fann Aniline Point Test kit is used in
the determination of the aniline point of
petroleum products and hydrocarbon solvents,
such as diesel oils and mineral oils used
in preparation of oil-based drilling fluids.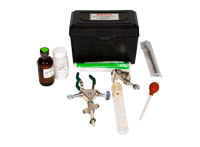 This method is suitable for transparent liquid
samples having an initial boiling point above
room temperature and where the aniline point is
below the bubble point and above the
solidification point of the aniline-sample mixture. This procedure is similar to Method A
of ASTM: D611-82 (1982) and IP: 2/76 (1976).
Ordering Information
Part No. 210152 Aniline Point Determination Kit
Note: Images of products are provided for illustrative purposes only. The actual product you receive may vary
from the image displayed on this web site.